Treat Hyperpigmentation With This Amazing Obagi-C Rx System
Hyperpigmentation is nothing but the parts of the skin that appear darker than other surrounding areas. It may occur in tiny patches or on the face, arms, legs, somewhere on the skin in larger areas. It is primarily caused by melanin overproduction, the pigment that gives the skin its colour, and is a very common skin disorder that can affect anyone, irrespective of the nature of the skin.
You are on the way to softer, clearer, brighter, and more even-looking skin with Obagi-C Rx. In order to treat the obvious symptoms of skin damage and hyperpigmentation, the Obagi-C Rx System combines the advantage of Vitamin C and helps preserve younger-looking skin.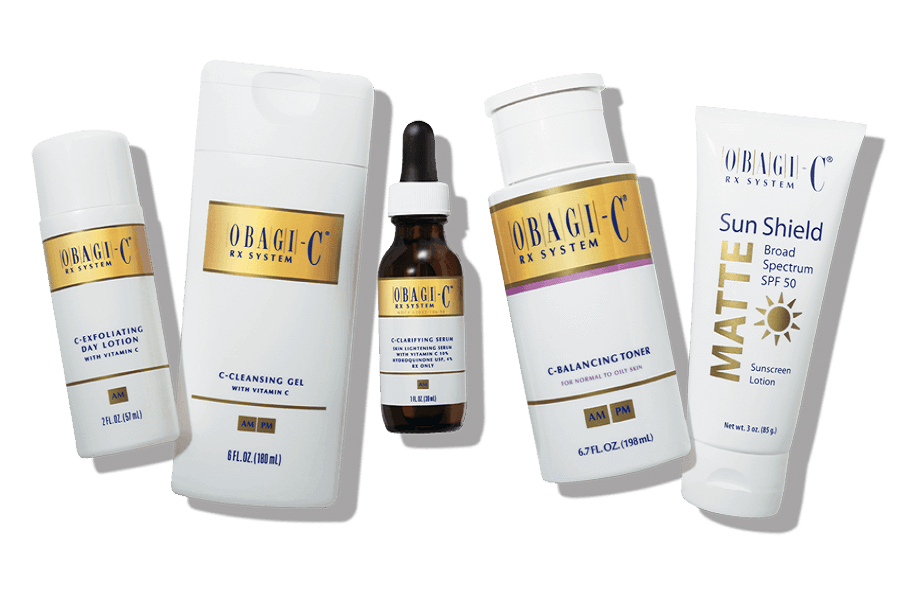 Types of hyperpigmentation that can occur:
Melasma – Melasma is caused by hormonal fluctuations or pregnancy most of the time. It is usually found on the belly and face It looks similar to age spots but typically appears in a much greater shape.
Sunspots – Sunspots are caused by prolonged exposure to the sun (you guessed it) and are usually found in areas of the body that are normally more vulnerable to direct sunlight, such as the face and arms. Often sunspots are also known as 'liver' spots or solar lentigines.
Hyperpigmentation due to inflammation – The consequence of damaged skin caused by acne, cuts, or burns is also a kind of hyperpigmentation.
Reasons for hyperpigmentation may also be the effect of consuming hormone-disrupting oral contraceptives and some medicines that raise the sensitivity of a person to sunlight. Apart from that, the predominant cause for most individuals with hyperpigmentation is usually excessive sun exposure.
How to take care of hyperpigmented skin?
Several factors can trigger hyperpigmentation, so you should first contact your dermatologist to explore your options for treatment.
Preventing these dark patches may or may not be easy, but by doing just a few simple things, you can always keep your skin better, they are:
Always use a wide-spectrum sunscreen. Use at least SPF 30 infused sunscreen lotion and consider applying when needed, especially when the exposure to sunlight is prolonged.
It is also strongly recommended to use hats or clothes that can shield your skin from more sun damage, instead of only depending on your sunscreen to do all the extra effort for you.
Avoid exposure to the sun when at its best. For long stretches from 10:00 AM to 4:00 PM, prevent being in direct sunlight more than possible (for example, if you're on a shore or in a garden, make sure you have some protection to cover you!)
Apart from that, you can still look for topical remedies that can help reduce the appearance of dark spots, depending on how intense the hyperpigmentation is.
The Obagi-C Rx System
You may want to give the Obagi CRX System a shot if you struggle with common skin problems such as dark spots, uneven skin tone, hyperpigmentation, sun damage, and sensitivity to vigorous anti-aging regimens.
This collection emphasizes healthy, renewed, and revitalized-looking skin that appeals to almost every form of skin, from normal to dry and oily, and even sensitive skin.  It aims to achieve a rejuvenated skin from the inside out through prescription-strength 4% hydroquinone.
The Obagi-C Rx System comes with the following key products:
Obagi-C Rx C-Cleansing Gel – To allow your skin for deeper penetration of other C Rx products, this cleansing gel cleanses and purifies your skin, removing makeup, dirt, and oil residue. It contains vitamin C, a potent antioxidant that contributes to the skin rejuvenation and brightening process.  Without leaving your skin tight and brittle, this scientifically tested formulation easily reaches deep into your skin.
Obagi-C Rx C-Balancing Toner – It is advised to you use the Obagi-C Rx C-Balancing toner as the second product in the regimen if you have oily skin. It is perfect for skin brightening and also helps to regulate the skin's natural pH levels. Best of all, since this product contains calming ingredients, unlike most toners, it will not lead to irritation or tightness after use and will present you with a new and healthy complexion.
Obagi C-Exfoliating Day Lotion – The Obagi C-Exfoliating Day Lotion is suggested if you have dry skin. By using hyaluronic acid, which acts to improve water retention, helps to reduce the noticeable signs of ageing. It leaves the skin feeling well-hydrated and revitalized, while also eliminating dead skin surface cells and facilitating faster regeneration of cells.
How Obagi-C Rx System Works
With the Obagi-C Rx System, you can be on your journey towards better, healthier, brighter, and more even-looking skin. Scientific results demonstrate that the Obagi-C Rx system provides the skin with more L-ascorbic acid and encourages significant benefits that are more effective than other prominent skincare products with Vitamin C. To provide enhanced everyday protection, it also reaches deep into the skin and ensures the antioxidant benefits of Vitamin C for optimum nourishing impact.
However, please remember these products are not recommended to be used by pregnant women and breastfeeding mothers. Because certain parts of the skin are more vulnerable than others, treatments should be restricted to small areas of the body. It is also highly recommended to use sunscreen for care, as some products can cause sun sensitivity.
To better understand what your skin needs, consult your preferred dermatologist before checking out any of the Obagi-C Rx System products. Apart from the products mentioned above, because of its 4% hydroquinone content, the majority of the Obagi-C Rx system range is only available by prescription and is therefore not intended for use without clinical guidance.
To Sum up
Overall, with its promising results when it comes to concerns with hyperpigmented skin, the Obagi-C Rx System has inspired millions. However, it should also be a major concern to take care of your skin during and after the period of using Obagi products.
If you want to know more about its benefits and usage visit Dansys Group, one of the leading skincare products distributors in the UAE. We have a wide range of skincare and medical aesthetic products for all your need. Contact us on +971 4 4356446 or visit our website.