HydraFacial Treatment: What Is It and Why Is It So Popular?
Facials are loved by women and men alike, as they light up the face instantly! However, there's a new hype in the skincare world about HydraFacial! This skincare treatment has gained immense popularity these days as it instantly adds life to dull skin. This treatment revives your skin, making it appear plump and young within just one session.
And if you are curious about this treatment and looking forward to getting a hydrafacial in Delhi, here is everything you need to know about it!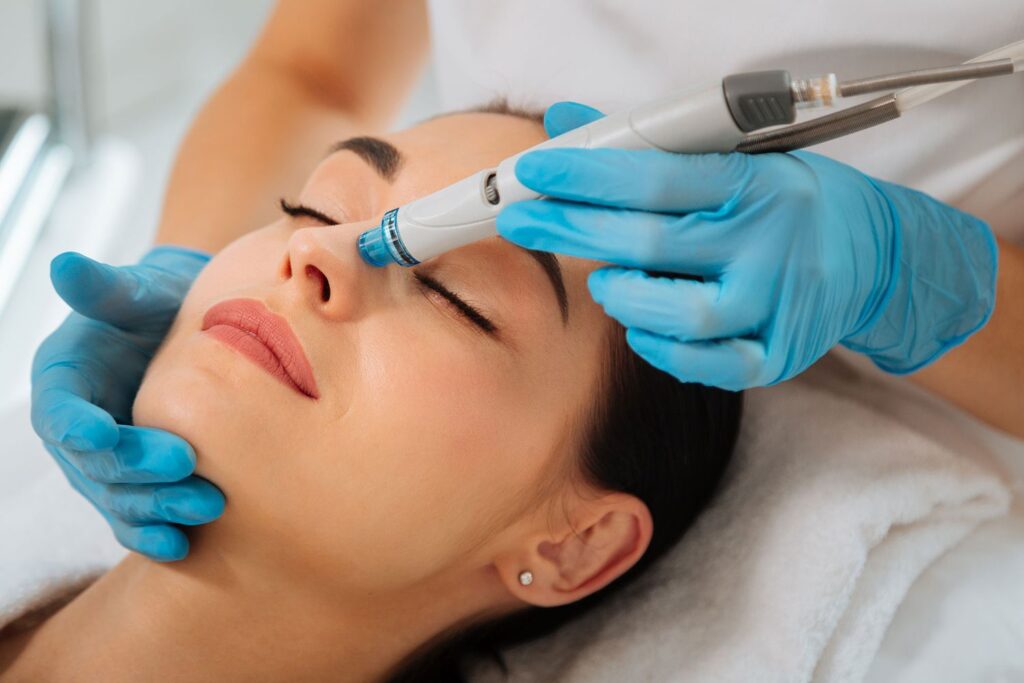 Content
What is HydraFacial?
HydraFacial is a three-step face cleansing and hydrating skincare treatment that is performed using a medical-grade device. It is offered by skin specialists who begin by exfoliating your skin so dead cells, blackheads, excessive oil, dirt, and sebum can be removed. After cleaning your skin, a pen-like device is used to infuse hydrating serums like glycolic acid and salicylic acid into your skin, so you can get that amazing glow you have always desired!
Moreover, the entire skincare treatment barely takes 30 minutes when done by a skin specialist in Delhi.
Skin Benefits of Getting HydraFacial
HydraFacial is popular because it doesn't just make your skin appear radiant and glowing but also helps improve the texture and lighten your complexion. This facial effortlessly removes impurities like dirt, oil, and dead cells from your skin. Additionally, with its extended usage, the signs of ageing like fine lines and wrinkles diminish, giving your skin a youthful transformation.
Who Should and Should Not Get a HydraFacial?
HydraFacial is suitable for everyone! No matter if you are a teenager or an adult, if you want healthy and glowing skin, just consult a skin specialist in Delhi and experience how hydra facial rejuvenates your skin!
However, there are a few situations when people should avoid getting a hydrafacial treatment, and these include:
During pregnancy: Avoid getting hydrafacial in Delhi if you are pregnant, as the use of salicylic acid isn't considered safe.
Skin Problems: If your skin has acne, rashes, or sunburns, avoid getting a hydrafacial treatment.
How Frequently Should You Get HydraFacial?
HydraFacial is known for adding an instant glow to your skin and does have a lasting effect when compared to other facials. However, this isn't a one-time treatment. To improve the texture of your skin while keeping it youthful, you should consider getting a HydraFacial in Delhi at least once every 1 to 1.5 months.
Are there any side effects?
One of the reasons why HydraFacial in Delhi has gained so much popularity is because it has zero to minimal side effects. Apart from the mild redness in the skin that lasts only a few minutes, there aren't any side effects of getting a hydra facial.
One can easily go on with their day after a quick 30-minute session with the skin specialist in Delhi. Just let the serum work its magic for a day and notice a significant difference in your skin. You can even start wearing make-up and follow your usual skincare routine the next day!
How Much Does HydraFacial in Delhi Cost?
The cost of a hydra facial may vary based on the location, qualification, and reviews of the expert; however, on average, a skin specialist in Delhi can charge around INR 1700 to 4000 for a hydra facial!
Summing Up!
In short, it is clear that hydra facials have tonnes of skin benefits aside from being budget-friendly. So, if you are a skincare enthusiast who wants to give your skin a new glow, hydrafacial skincare treatment is a must-try!